I haven't been doing much with the blogging as of late. I find that I spend as much time taking pictures and writing as I do working on my miniatures. Also throw in the fact that my son needs a liver transplant and in order to accomplish this we had to move a considerable distance. Well, I just haven't had much time or the inclination to do much of anything. Until lately that is, the last week or so has been a flurry of projects. We all seem to be settling in and I am coming out of my funk a bit. However I am going to start with some of my favorites from last year that I never got around to posting.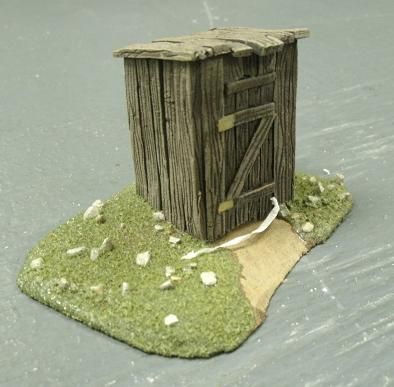 One of my favorites, to celebrate getting out of the crapper. The crapper. Made from pink foam and some flocking. Very easy to do really. The TP coming out the door is a nice touch if I say so myself.
My bombed out cafe below is one of my all time favorites. The versatility is useful. The only real drawback is that it is made out of cardboard. Then again, I didn't really have anything else to work with at the time. As I made this in the hospital room while my son was recovering from his kidney transplant. I have always thought it was one of my best building and I want to do at least one more. The plan was to redo it with better materials and do a tutorial, but things haven't really worked out that way.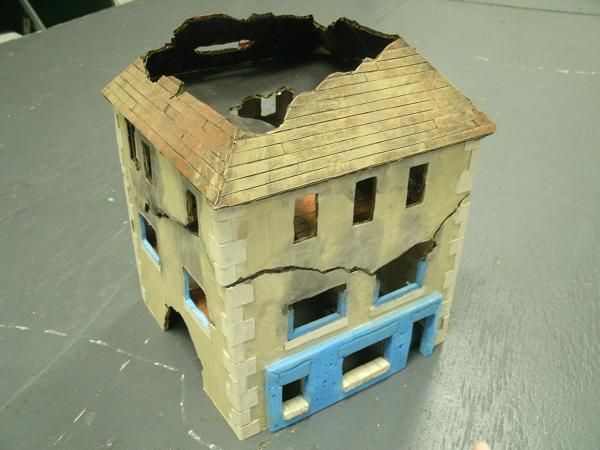 As you can tell from the picture, the top half comes off so you can put your miniatures in there. BUT WAIT! IF YOU ORDER NOW! ....sorry, could resist the infomercial parody.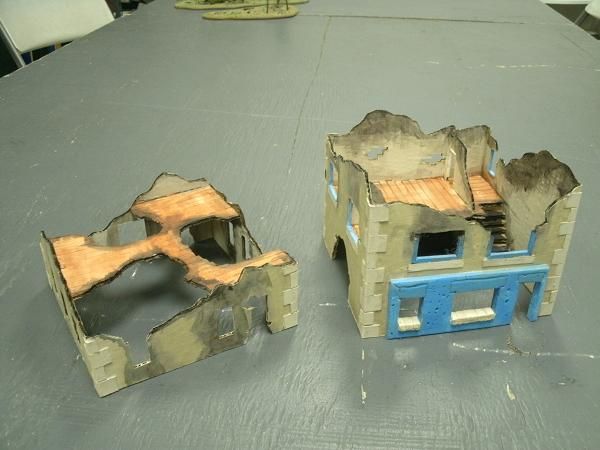 The roof comes off as well. The second floor does as well and if you flip it over, it can be used as a different building. Then the roof can be put back on the main part of the building, or left off.
Well, I thought it was pretty cool.
Most of my buildings are for WW2 skirmish gaming, but the following I made for a Savage Worlds game that me and some friends were playing. Savage Worlds is fantastic BTW, and they have a skirmish version of the game as well.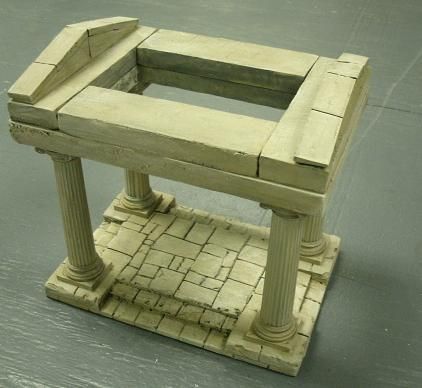 My ancient temple that I built with four of the 50+ columns that I picked up from an estate sale in my neighborhood for $2.00. So why not build some temples. I have a bigger one, as this was only supposed to be the center, but I ran out of time and energy trying to build that giant thing. It is currently sitting in my garage collecting dust.
Finally we have this last weekends project.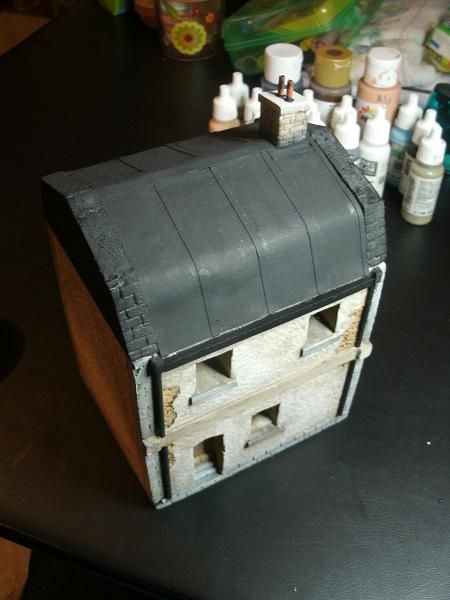 My little place in France. Made out of the usual foam, cardboard and some card stock. This was by fare the easiest roof I have ever done. I would like to do a larger 3 story cafe that comes apart, and has the same type of roof. I found some laser cut windows that I am planning on using for that project if I ever get to it.
One of my dastardly SS figs for scale. I hope the bowing walls in the photo have something to with the camera angle or something.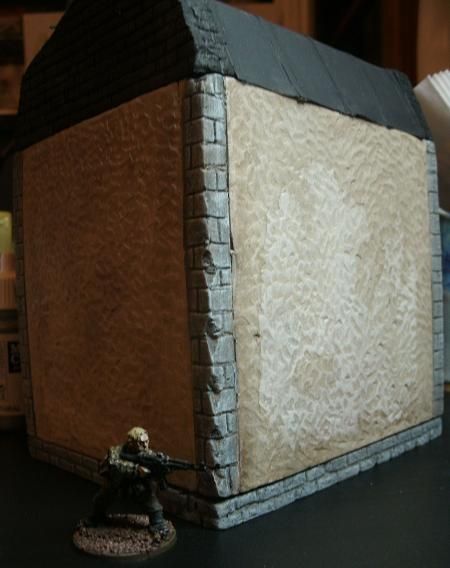 Here is the back side. Of course I intend to set this baby up against other buildings so I didn't put any windows or anything on the back or sides.